On the last visit we made to the Altico farm in Huila, Luis Carlos Tovar told us with a smile: "Thank you because this program is allowing us to be more productive and sustainable". This is what we are looking for with this initiative that began, in its second version, a little more than eight months ago: to accompany 550 families so that they can transform their farms into sustainable coffee companies.
This project is part of Grupo Nutresa's initiative to promote responsible sourcing, thus impacting not only the producers but also all the links in the coffee solutions chain, improving the quality of life of the coffee-growing families, the fulfillment of the needs of the sustainable coffee market and contributing to build a better world where development benefits everyone.
For the next three years, we will be accompanying, through our allies in the field: Ecom and Carcafé, producers in Huila and Santander, so they can transform their farms into sustainable businesses, also this will allow us to strengthen the coffee production system.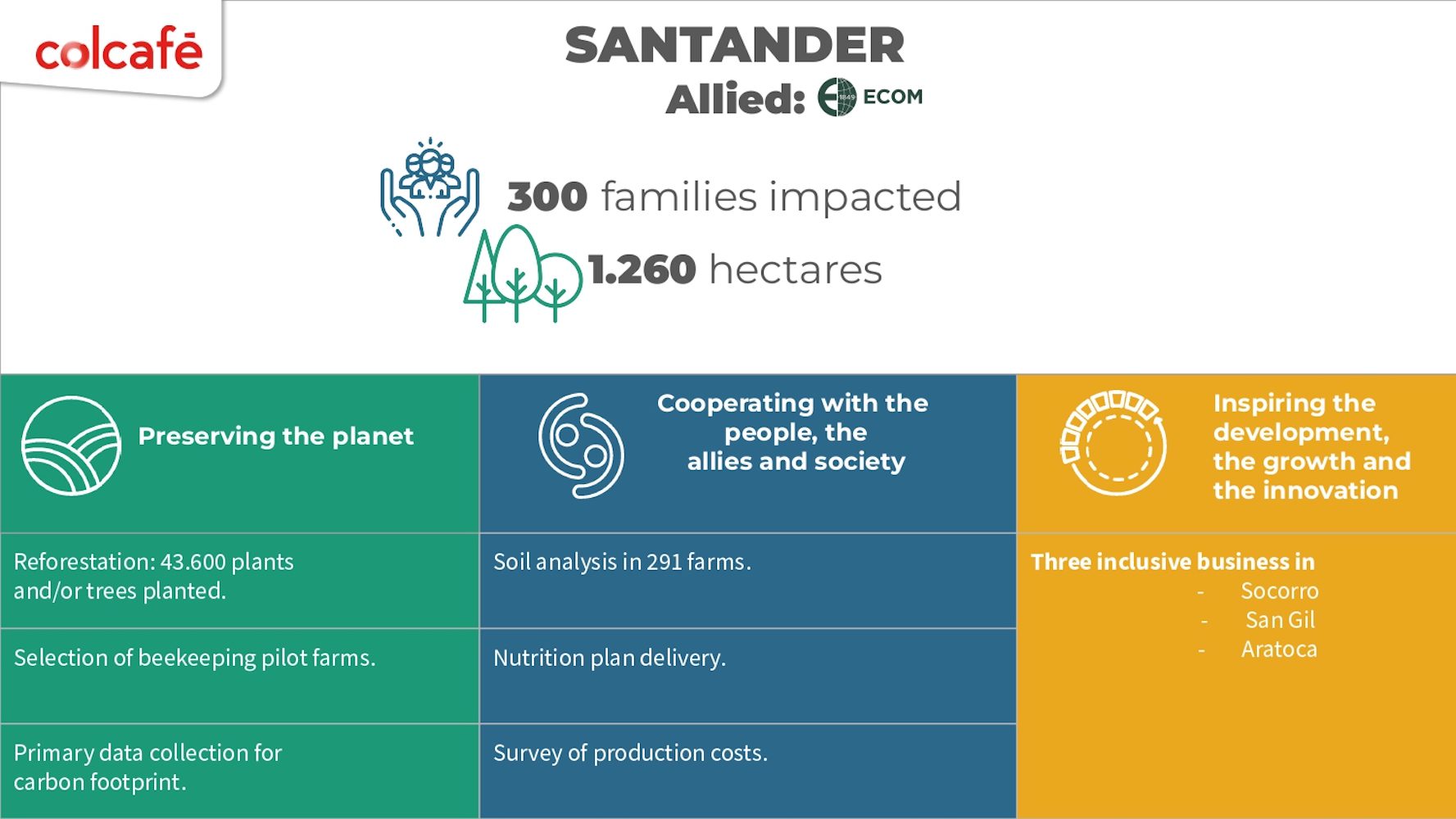 With this sustainability project, we have positively impacted 300 families and their coffee companies in an area of 1,260 hectares. Our efforts towards sustainability have contributed to the generation of well-being in the communities and the protection of the natural resources surrounding the production of Colombian coffee.
Training:
Safe handling of agrochemicals

Environmental management and conservation

Pest and disease control
In Huila, we are impacting 250 coffee-growing families and a total area of 775 hectares.
In addition, we hope that the program will help reduce the levels of child labor in Colombian farms and promote generational splicing so that more and more young people remain, innovate and develop the countryside.
At Colcafé, we are committed to building a future together. Stay tuned for upcoming articles where we will share more about our projects and programs that help us make our higher purpose a reality for everyone.
Farmers from our program that promotes growth and sustainability
of the sector for Colombian coffee companies.
Quizás te pueda interesar
Ancla top